Hire a Scottish Highland Piper
"I had no idea just how well you had looked after me, he has so much pride in his performance be it his uniform or his songs he plays, his ability to play his pipes is nothing but outstanding, fantastic value for money, if this is a sample of the standard of performers that you promote, then i salute you, and will not hesitate to recommend your company to anyone. Many thanks from a very happy customer"
Traditional Highland Bagpipers for Hire
We have Pipers available all across the UK for all events.
Fill in the booking enquiry and we aim to respond asap with as many quotes as possible directly to you email and text.
A Bagpiper will add that special touch to your occasion and are available as asolo piper to a full pipe band. Highly experienced Pipers with years of experience are available for all occasions.
To get a quick quote just use our Booking Enquiry
Highland Piper Hire for Weddings, Funerals, Burns Nights , New Years Eve Bagpipers
Your Bagpiper will provide piping at the church or registry office, playing from a large selection of classic tunes, at the hotel reception with atmospheric background music and then pipe the bride and groom to the top table.
Birthdays, Anniversaries and Xmas and New Year party Celebrations.
A Professional Piper can make all the difference to your special occasion making it an event to remember. Our top quality pipers with years of experience will guarantee to make any event memorable.
Perfect for Product Launches, Promotions, Trade Shows, Themed Events and Staff Parties. A piper is a fantastic addition to your event.
Your piper will supply classic laments to give loved ones the most memorable send off. A smartly dressed, professional piper will enhance the service for your loved one.
We can arrange Mini Pipe Bands and Full Size Pipe Bands with Pipers and Drummers
Your Piper can provide different styles of dress to suit your occasion including Full number one costume with feather bonnet or evening or day dress with dinner jacket and bow tie or blazer and shirt and often, a choice of kilts.
No. 1 Uniform (Full Dress)
Feather Bonnet Tunic
Plaid
Cross belt and Brooch
Kilt and Sporran
Hose and Brogues
No. 2 Uniform
Glengarry bonnet Shirt
Waistcoat
Jacket and Tie
Kilt and Sporran
Hose and Brogues
A brief history and info on the bagpipe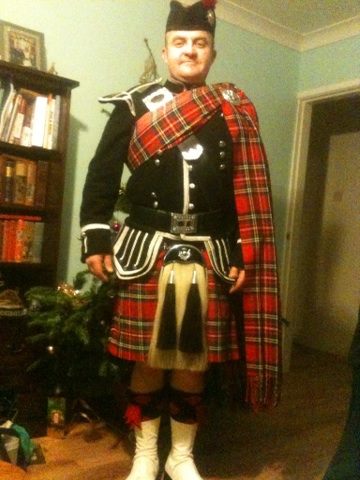 Conwy Piper #2840
Experienced Piper available for all occasions in the North Wales and Anglesey areas
Available for Piper hire for Weddings and Civil Ceremonies, Corporate Events, Birthday Parties, Funerals, Bar Mitzvahs, TV Work, Movies, Commercials, Promotional Events, New Year Parties, Christmas Parties and Burns Nights.

Customer Testimonials
Surrey Piper #3275
It couldn't have been 10mins after you finished playing when they rung with tears of laughter, to thank us for sending a Bagpipe-agram, as we couldn't get to the party
Birthday Party
We can supply Burns Night Scottish Pipers troughout the UK. Don't leave it too long though as they get booked up fast, many a full year in advance.
Many pipers are able to address the haggis with the Address to a Haggis Poem
You can view the Burns Night Poem and Download the Free Printout here
Hire a traditional piper to pipe in the new year
Our Local Bagpipers are based throughout the UK:
Pipers in Scotland
We have Bagpipers based in Aberdeenshire, Angus, Clackmannanshire, Dumfries Galloway, Dundee, East Ayrshire, Edinburgh, Falkirk, Fife, Glasgow, Highland, Inverclyde, Mid Lothian, Moray, Renfrewshire, Scottish Borders, South Ayrshire, Stirling and West Dunbartonshire who can travel to all the surrounding areas
Pipers in England
We have Bagpipers based in Bedfordshire, Berkshire, Cambridgeshire, Cheshire, Cornwall, Derbyshire, Devon, Dorset, Durham, East Sussex, East Yorkshire, Essex, Gloucestershire, Greater London, Greater Manchester, Hampshire, Herefordshire, Isle of Wight, Kent, Lancashire, Lincolnshire, Merseyside, Norfolk, North Yorkshire, Nottinghamshire, Shropshire, South Yorkshire, Suffolk, Surrey, Tyne and Wear, Warwickshire, West Yorkshire, Wiltshire who can travel to all the surrounding areas
Pipers in Wales
We have Bagpipers based in Cardiff, Conwy, Neath Port Talbot who can travel to all the surrounding areas